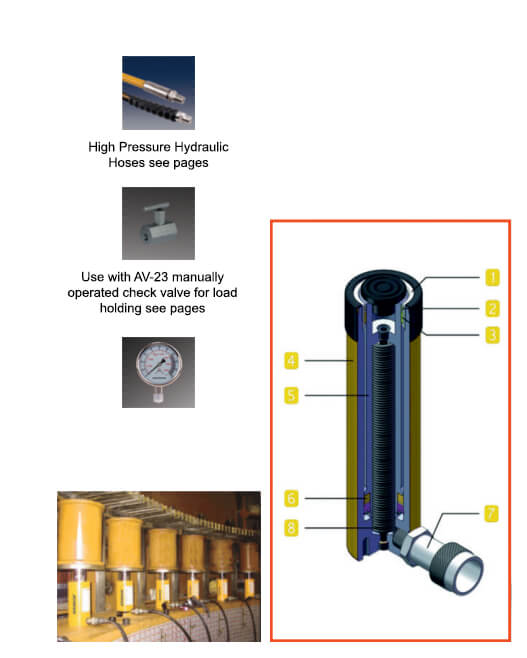 OPTIONAL TILT SADDLES
Tilt Saddle
Use with Cylinder capacity
Metric Ton (US Ton)
Tilt Saddle
For use with Cylinder Capacity
Metric Ton (US Ton)*
–
5 (5.5)
AT-50
30 (33)
AT-10
10 (11)*
AT-100
50 (55)
AT-10
15 (16.5)
AT-100
75 (82.5)
AT-50
25 (27.5)
AT-100
95 (102.3)
*Excepts ARC-101
Hardened alloy steel guide ring eliminates over travel an provides support to reduce wear from off center loads.
Heavy-duty wiper ring keeps dust and debris out of the cylinder body improving performance and service life of the cylinder.
High strength composite bearing provides support for off center loads without damaging the cylinder walls.
High strength alloy steel body is precision machined to reduce wear and features a baked enamel finish for durability and corrosion protection.
Hardened and chromed piston reduces wear and corrosion.
Industrial U-cup style seal prevents costly leaks.
Standard coupler provided with dust cover.Heavy-duty,
Straight pull return springs provide quick retraction times.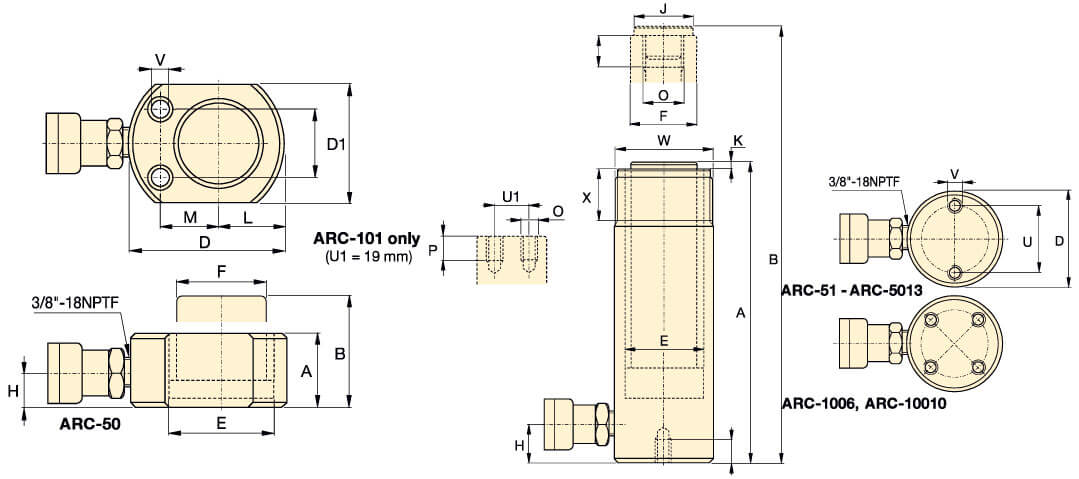 Model Number
Cylinder Capacity
Stroke
Cylinder Effective Area
Oil Capacity
Collapsed Height A
Extended Height B
Outside Dia. D
Cylinder Bore Dia. E
Plunger Dia. F
Base to Adv. Port H
Saddle Dia. J
Plunger Internal Thread 0
Plunger Thread Length P
Base Mounting Holes Thread
Collar Thread W
Collar Thread Length X
ton
(mm)
(cm')
(cm³)
(mm)
(mm)
(mm)
(mm)
(mm)
(mm)
(mm)
(mm)
V
(mm)
(kg)
ARC-50**
5
16
6,5
10
41
57
58***
28,7
25,4
19
**
**
**
5,6 mm
–
–
1,0
ARC-51
25
6,5
16
110
135
38
28,7
25,4
19
25
3/4 16 UN
14
1/4″ 20 UN
11/2″ 16 UN
28
1,0
ARC-53
76
6,5
50
165
241
38
28,7
25,4
19
25
14
28
1,5
ARC-55*
127
6,5
83
215
342
38
28,7
25,4
19
25
14
28
1,9
ARC-57
177
6,5
115
273
450
38
28,7
25,4
19
25
16
28
2,4
ARC-59
232
6,5
151
323
555
38
28,7
25,4
19
25
16
28
2,8
ARC-101
10
26
14,5
38
89
115
57
42,9
38,1
19
–
#10 24 UN
6
5/16″- 18 UN
21/4″ 14 UN
26
1,8
ARC-102*
54
14,5
78
121
175
57
42,9
38,1
19
35
1″ 8 UN
19
26
2,3
ARC-104
105
14,5
152
171
276
57
42,9
38,1
19
35
19
26
3,3
ARC-106*
156
14,5
226
247
403
57
42,9
38,1
19
35
19
26
4,4
ARC-108
203
14,5
294
298
501
57
42,9
38,1
19
35
19
26
5,4
ARC-1010*
257
14,5
373
349
606
57
42,9
38,1
19
35
19
26
6,4
ARC-1012
304
14,5
441
400
704
57
42,9
38,1
19
35
19
26
6,8
ARC-1014
356
14,5
516
450
806
57
42,9
38,1
19
35
19
26
8,2
ARC-151
15
25
20,3
51
124
149
69
50,8
41,4
19
38
25
³/8 16 UN
2³/4 16 UN
30
3,3
ARC-152
51
20,3
104
149
200
69
50,8
41,4
19
38
22
30
4,1
ARC-154*
101
20,3
205
200
301
69
50,8
41,4
19
38
22
30
5,0
ARC-156*
152
20,3
308
271
423
69
50,8
41,4
25
38
25
30
6,8
ARC-158
203
20,3
411
322
525
69
50,8
41,4
25
38
25
30
8,2
ARC-1510
254
20,3
516
373
627
69
50,8
41,4
25
38
25
30
9,5
ARC-1512
305
20,3
619
423
728
69
50,8
41,4
25
38
25
30
10,9
ARC-1514
356
20,3
723
474
830
69
50,8
41,4
25
38
25
30
11,8
ARC-251
25
26
33,2
86
139
165
85
65,0
57,2
25
50
1¹/²" 16 UN
25
1/2″ -13 UN
35/16 12 UN
49
5,9
ARC-252*
50
33,2
166
165
215
85
65,0
57,2
25
50
25
49
6,4
ARC-254*
102
33,2
339
215
317
85
65,0
57,2
25
50
25
49
8,2
ARC-256*
158
33,2
525
273
431
85
65,0
57,2
25
50
25
49
10,0
ARC-258
210
33,2
697
323
533
85
65,0
57,2
25
50
25
49
12,2
ARC-2510
261
33,2
867
374
635
85
65,0
57,2
25
50
25
49
14,1
ARC-2512
311
33,2
1033
425
736
85
65,0
57,2
25
50
25
49
16,3
ARC-2514*
362
33,2
1202
476
838
85
65,0
57,2
25
50
25
49
17,7
ARC-308
30
209
42,1
880
387
596
101
73,2
57,2
57
50
25
–
49
18,1
ARC-502
50
51
71,2
362
176
227
127
95,2
79,5
33
71
–
–
1/2″ -13 UN
5″ 12 UN
55
15,0
ARC-504
101
71,2
719
227
328
127
95,2
79,5
33
71
–
–
55
19,1
ARC-506*
159
71,2
1131
282
441
127
95,2
79,5
35
71
–
–
55
23,1
ARC-5013
337
71,2
2399
460
797
127
95,2
79,5
35
71
–
–
55
37,6
ARC-756
75
156
102,6
1601
285
441
146
114,3
95,2
30
71
–
–
–
5³/4″ 12 UN
44
29,5
ARC-7513
333
102,6
3417
492
825
146
114,3
95,2
30
71
–
–
–
5³/4″ 12 UN
44
59,0
ARC-1006
100
168
133,3
2239
357
525
177
130,3
104,9
41
71
–
–
3/4″ 10 UN
12 UN
44
59,0
ARC-10010
260
133,3
3466
449
709
177
130,3
104,9
41
71
–
–
3/4″-' 10 UN
67/2″ 12 UN
44
72,6