COST EFFECTIVENESS
Optimized design increases 20% more duty cycles with longer runtime.
Precision control for stable operation.
Large ground clearance (Pothole Protection retracted), great trafficability.
EASY MAINTENANCE & SERVICE
Common components and modular design, easy to maintenance.
Bilateral swing-out trays (battery & hydraulic), simple to service .
Robust & build to last, reliable and safe.
ACCESSORIES & OPTIONS
Air line to platform.
AC power to platform.
Platform work lights.
Maintenance-free battery.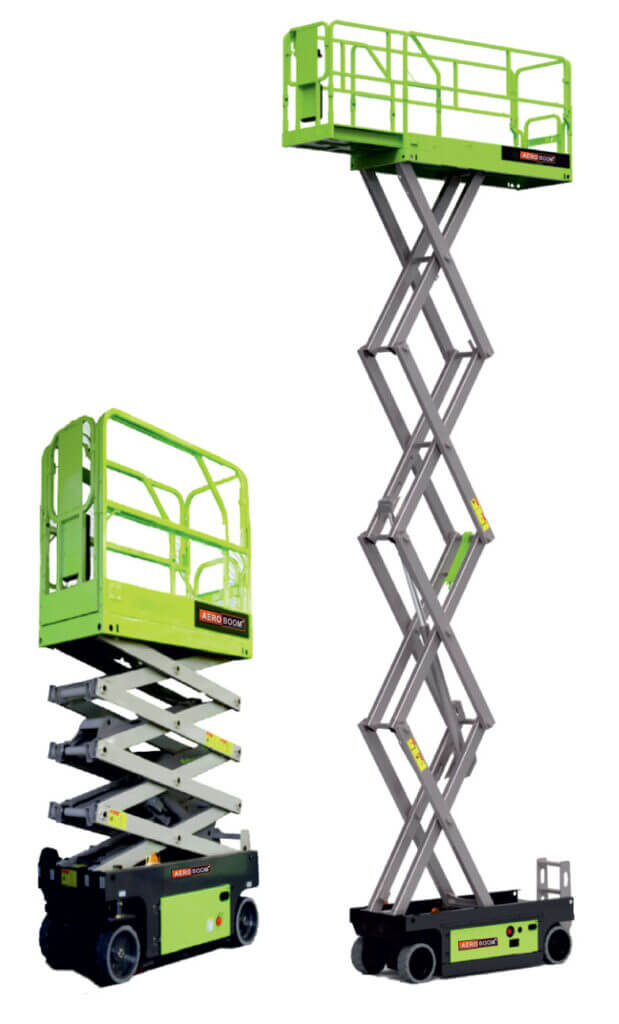 Model
ASL0607
ASL0608
ASL0808
ASL1012
ASL1212
ASL1414
Imperial
Metric
Imperial
Metric
Imperial
Metric
Imperial
Metric
Imperial
Metric
Imperial
Metric
Size
Work height
25ft 7in
7.8m
26ft 3in
8.00m
32ft 10in
10.00m
38ft 9in
11.80m
45ft 3in
13.80m
51f6in
15.7m
A-Plattorm Height-Elevaled
19ft
5.8m
19ft &in
6.00m
26ft 3i
8.00m
32ft 2in
9.80m
38ft 9in
11.80m
44ft11in
13.7m
B-Platform Height Stowed
3ft 5in
1.05m
3ft 6in
1.07m
3ft 11in
1.20m
4ft 4in
1.33m
4ft 10in
1.46m
5ft
1.5m
C-Platform Length
5ft 5in
1.65m
7ft 7in
2.30m
7ft 7in
2.30m
7ft 7in
2.30m
7ft 7in
2.30m
8ft 9in
2.67m
D-Platform Width
2ftin
0.74m
2ft &in
0.81m
2ft &in
0.81m
3ft 8in
1.12m
3ft 8in
1.12m
3ft 8in
1.12m
Platform Extension
3ft
0.91m
3ft
0.91m
3ft
0.91m
3ft
0.91m
3ft
0.91m
3ft
0.9m
E-Overall Height (Rails Up)
7f 3in
2.20m
7ft 4in
2.22m
7ft 9in
2.35m
8ft 1in
2.46m
8ft 6in
2.59m
8ft 8in
2.65m
Overall Height (Rails Down)
5ft 10in
1.79m
5ft 8in
1.72m
6ft in
1.85m
6ft4in
1.92m
6ft 9in
2.05m
6ft 11in
2.1m
F-OverallI length
6ft in
1.85m
8ft 2in
2.49m
8ft 2in
2.49m
8ft 2in
2.49m
8ft 2in
2.49m
9ft Sin
2.87m
G. Overall Width
2ft 6in
0.76m
2ft 8in
0.81m
0.81m
3f 9in
1.15m
3ft 9in
1.15m
4ft 7in
1.4m
H Wheelbase
4ft 6in
1.37m
6ft 1in
1.85m
6ft 1in
1.85m
6ftin
1.85m
6ft 1in
1.85m
7ft 3in
2.22m
-Ground Clearance (Stowed)
2.4in
0.06m
4.5in
0.11m
4.5in
0.11m
4.5in
0.11m
4.5in
0.11m
4.5in
0.11m
J-Ground Clearance (Raised)
0.65in
0.016m
0.75in
0.02m
0. 75in
0.02m
0.75in
0.02m
0.75in
0.02m
0.75in
0.02m
Performance
Platform Capacity
510lb
230kg
840lb
380kg
510lb
230kg
770lb
350kg
770lb
350kg
570lb
260kg
Capacity on Deck Extension
250lb
113kg
250lb
113kg
250lb
113kg
250lb
113kg
250lb
113kg
250lb
113kg
Max Number of Workers
2
2
2
2
3
2
Drive Speed (Stowed)
2.2mph
3.5km/h
2.2mph
3.5km/h
2.2mph
3.5km/h
2.2mph
3.5kmh
2.2mph
3.5km/h
2.2mph
3.5km/h
Drive Speed (Raised)
0.5mph
0.8km/h
0.5mph
0.8km/h
0.5mph
0.8km/h
0.5mph
0.8kmh
0.5mph
0.8km/h
.5mph
88m/h
Turning Radius (Inside)
4in
0.1m
4in
0.1m
4in
0.1m
4in
0.1m
4in
0.1m
4in
0.1m
Turning Radius (Outside)
5ft 3in
1.6m
6ft 11in
2 1m
6ft 11in
2.1m
7ft3in
2.2m
7ft3in
2. 1.2m
8ft 6in
6m
Up/Down Drive Motor
24V/3.3KW
24V/3.3KW
24V/3.3KW
24V/4.5KW
24V/4.5KW
24V/4.5KW
Up/Down Time
20s/24s
28s/35s
31s/40s
60s/35s
62s/42s
88s/60s
Gradeability
25%(14°)
30%(17³)
25%(14°)
25%(14°)
25%(14°)
25%(14°)
Max Working Slope (Lateral/Vertical)
1.5°/3°
1.5%3
1.5°/3°
1.5°/3°
1.5%
1.5°/3°
Control
Proportional Control
Proportional Control
Proportional Control
Proportional Control
Proportional Control
Proportional Control
Drive
Front Wheels
Front Wheels
Front Wheels
Front Wheels
Front Wheels
Front Wheels
Brake
Rear Wheels
Rear Wheels
Rear Wheels
Rear Wheels
Rear Wheels
Rear Wheels
Tyre
Ø12in x4.5in
Ø305mm 14mm
Ø15in x5in
0381mm 127mm
Ø15in x5in
Ø381mm <127mm
Ø15in x5in
Ø381mm x127mm
Ø15in x5in
Ø381mm x127mm
Ø15in x5in
Ø38 1mm 27mm
Power
Battery (Optional)
4x6V/210Ah
4x6V/225Ah
4x6V/225Ah
4x6V/240Ah
x12V/300Ah
4x12V/300Ah
Charger (Optional)
24V/30A
24V/30A
24V/30A
24V/30A
24V/30A
24V/30A
Weight
Gross
3140lb
1425kg
4210lb
1910kg
4540lb
2060kg
6395lb
2900kg
7010lb
3180kg
7805lb
3540kg