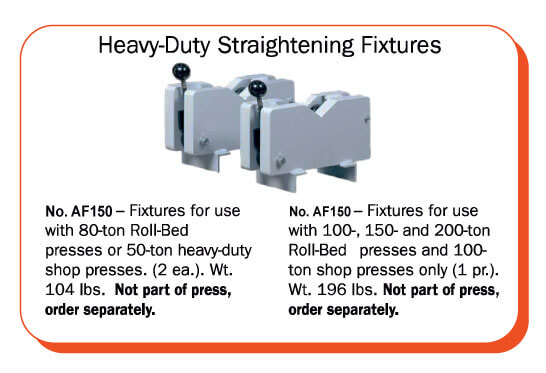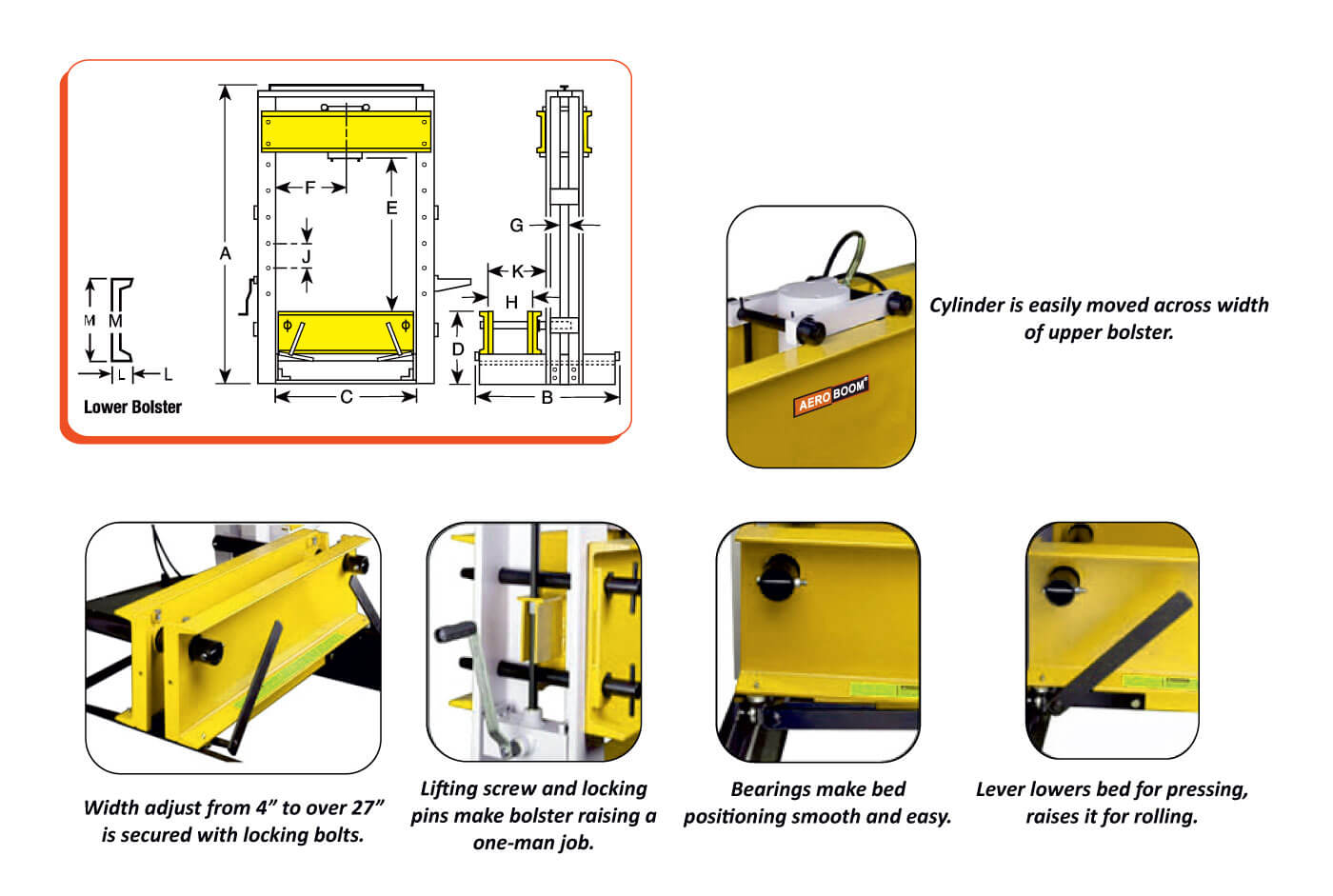 ORDERING INFORMATION
Model No.
Capacity (Tons)
Stroke (mm)
Cyl. Model
Type Cyl. Used
Speed Advance (mm)
Pressing (mm)
Type Pump
Valve Type
Pump Model
Prod. Wt. (kg)
ARB-8013S
80
333
ARR-8013
Double-Acting
1168
190
Elec.
4-way*
APE-2
1307
ARB-10013S
100
333
ARR-10013
Double-Acting
889
147
Elec.
4-way*
APE-2
1334
ARB-15013S
150
333
ARR-15013
Double-Acting
610
99
Elec.
4-way*
APE-2
2019
ARB-20013S
200
333
ARR-20013
Double-Acting
457
74
Elec.
4-way*
APE-2
2059
Solenoid valve with 24 volt remote control hand switch.
Frame is shipped assembled.
Pump standard with press. Other Aeroboom pumps can be substituted. DBA at idle and 10,000 psi. APE40M3N10G measured at 3 foot distance, all sides.
Typical performance based on 100 psi and 10000 psi pump specifications. Actual speeds may vary with operating conditions.
3,000 lbs maximum load can be spported on bed when raised on the rollers.
DIMENSIONS
Cap Tons
A (mm)
B (mm)
C (mm)
D (mm)
E (mm)
F (mm)
G (mm)
H (mm)
J (mm)
K (mm)
L (mm)
M (mm)
Floor Space (mm)
80
2861
1632
1283
686
305-1524
368-914
76.2
102-692
203
927
86
381
1632 1537
100
2861
1632
1283
686
305-1524
368-914
76.2
102-692
203
927
86
381
1632-1537
150
3131
1734
1302
762
252-949
352-949
76.2
102-689
279
946
105
457
1734-1607
200
3131
1734
1302
762
252-949
352-949
76.2
102-689
279
946
105
457
1734-1607